Evergreen Brick Works - About Green AV
Novita is excited to be the AV Consultants for the Evergreen Brick Works, a heritage industrial site in Toronto that is being transformed into a multi-purpose, sustainable, green community centre. We are designing AV systems for the Welcome Centre (new construction), Discovery Garden Area, Farmers' Market, and the Kiln Building (all heritage structures).
The Welcome Centre's North Event Room will be equipped for a wide variety of events, such as classes, meetings, and receptions. The upstairs Boardroom will have videoconferencing capabilities, and all of the meeting rooms will accommodate multi-media presentations. The Discovery Garden Area and the Farmers' Market will have background music, and the Kiln Building will host film and video presentations.
Sustainable AV Design
At the present time, there are no Green standards for AV systems. However, industry associations such as InfoComm are working to develop standards to be incorporated into the LEED Green Building Rating System, and manufacturers are developing greener products. The European Union passed the Restriction on Hazardous Substances Directive (RoHS) in 2006, which restricts the use of certain hazardous substances in electrical and electronic equipment.
So what can be done right now to reduce the environmental impact of AV systems? These are the solutions that Novita is implementing for the Brick Works:
• Using EnergyStar rated and RoHS compliant products whenever possible
• Designing distributed sound systems rather than reinforced sound systems (distributed systems use smaller speakers, requiring less energy)
• Centralizing control of all AV devices, which eliminates the need for equipment to be left powered on when not in use
• Using high-quality, professional equipment that will have a longer life than inexpensive equipment (thereby reducing the amount of broken equipment sent to landfill)
• Videoconferencing can be a substitute for travel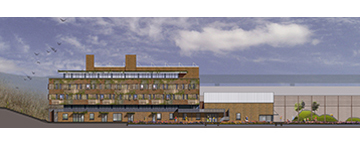 More on Green AV
We've found the following online sources if you'd like to learn more about Green AV:
• InfoComm's Sustainable Technology Environments Program
• A downloadable PDF "Best Practices for Sustainability in the Audio Visual Industry" from a sustainable AV staging company
• An informative article from the March 2009 ProAV magazine
"Thank you for Novita's generous in-kind contribution towards Evergreen Brick Works. This commitment of AV design will demonstrate Novita's commitment to sustainable design and will have a significant impact as we work together to build Canada's first environmental community centre and showcase for urban sustainability."

Geoff Cape
Executive Director, Evergreen